PRESS RELEASE: EROTIC ATMOSPHERE PART 1 BY ANOQ OF THE SUN
---
---
Atmospheric Music Track Featuring Gloriadakini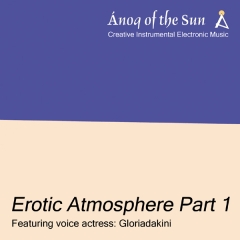 The new track Erotic Atmosphere Part 1 uses the voice of Gloriadakini to create an erotic atmosphere, which would be perfect as background music for intimate and sensual moments.
It is currently available from www.anoq.net/music as free (legal!) mp3 download and is sold through many online download shops world-wide. It will be part of the upcoming album Ichography, which will also contain Erotic Atmosphere Part 2, to continue and complement this track.
The inspiration comes in large part from two pieces of music by Jean Michel Jarre: The transition before Magnetic Fields Part 2 from his Paris La Defence concert (1990) and Qu'est-ce-que L'Amour from his Hong Kong concert (1994). However, unlike those two tracks, both of which are quite short, Erotic Atmosphere Part 1 is more than 5 minutes long, thus giving the listener the time to fully enter this wonderful atmosphere.



---

Modified: 2015-04-12
E-mail: Contact